Azon Thermal Fill & Debridge
To maintain the highest levels of quality and customer satisfaction, Keymarks pour and debridge operations are centered exclusively around Azon USA, Inc.'s structural polyurethane systems, that are specifically designed to work in conjunction with today's high performance finishes.
The two-component polyurethane polymers are dispensed into an extruded thermal barrier channel where they react to become a structural insulating polymer. Afterward, the metal web connecting the channel in the aluminum extrusion is removed by a debridging machine to produce the final thermal barrier composite structure. See How the fill and debridge process works .
Fill and debridge samples are routinely submitted to Azon for testing in accordance with standards of the American Architectural Manufacturer's Association (AAMA) and ASTM International. Likewise, the quality control test procedures and analysis that are preformed in Keymarks plants before and during processing ensure the material quality throughout the manufacturing process.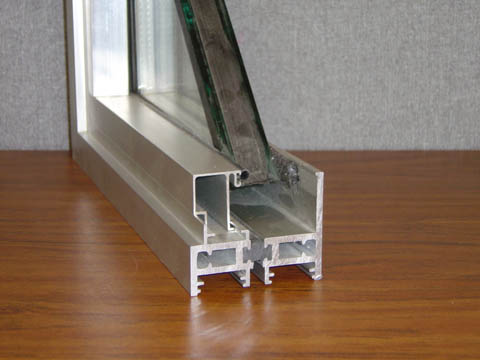 An aluminum window profile is designed and extruded with a strategically placed channel to encapsulate the Azon insulating polymer. The channel surface is conditioned using the patented Azon Azo-Brader™* by abrading the profile to mechanically lock the polyurethane polymer with the finished surface of the aluminum profile.
*U.S. Patent 5-577 951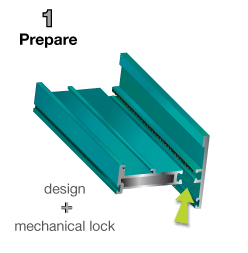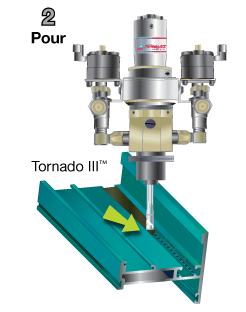 Employing the Azon Fillater™ equipped with the Azon Tornado III™ dynamic mixer, two-component polyurethane is dispensed as a liquid into the thermal barrier channel. Within minutes, the thermal core solidifies into a very strong structural polymer.
The extrusion is transported to the Azon Bridgemill™ for the third step in the process– removal of the metal bridge from the bottom of the channel to produce a true, non-metal-to-metal structural thermal barrier. The pour and debridge method is suitable for withstanding the most demanding climates and conditions with higher performance in impact resistance, shear strength and heat distortion than alternative methods.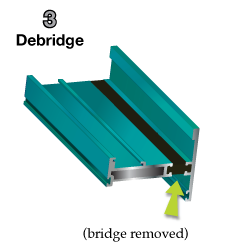 The Role of Thermal Barriers
Aluminum is recognized as a highly conductive metal—second only to copper in terms of thermal conductivity. The conductive tendency of aluminum requires a process to negate the flow of energy through the metal. Thermal barrier technology by Azon provides a solution that improves thermal performance while strengthening the structural and long-term durability of the fenestration unit.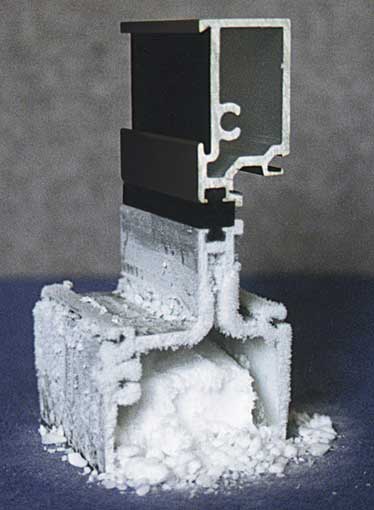 Cold temperatures transfer easily through a frame that is not insulated. To prevent heat and cold transfer a frame must be insulated using a high performance fill and debridge thermal barrier.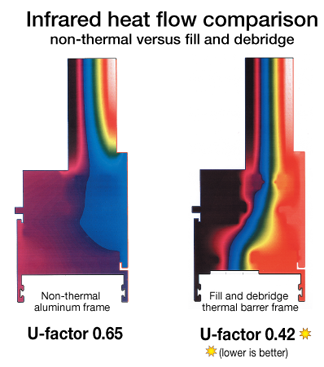 American Architectural Manufacturers Association
Meets AAMA 505-98 Dry Shrinkage and Composite Performance Thermal Cycle Test Procedures.
Meets AAMA QAG-1-98 Quality Assurance Processing Guide for Poured and Debridged Polyurethane Thermal Barriers.
Meets AAMA TIR A8-04 Structural Performance of Composite Thermal Barrier Framing Systems.
Meets AAMA TIR A8-04-UG Thermal Barrier Analysis Program Users Guide.
Azon fill and debridge thermal barriers offer positive benefits:
Outstanding thermal performance—with twice the insulating value compared to other systems— based on thermal conductivity.
Strongest thermal barrier used in architectural aluminum in terms of shear and tensile strength. Compared to other systems, fill and debridge has twice the strength
Less costly in materials and production.
Warranty of 10 years for mechanical lock extrusions.
Capable of complex shapes such as radius, curved and arched-top windows.
Approved Azo-Brader Applicators work closely with Azon to follow guidelines set forth in the American Architectural Manufacturers Association (AAMA) AAMA QAG-1-98 Quality Assurance Processing Guide for Poured and Debridged Polyurethane Thermal Barriers and the Azon Quality Assurance Guide. The key to the extrusion performance is the ongoing confirmation testing Azon performs to ensure proper application of the thermal barrier products. Participants in the Approved Azo-Brader Applicator program are chemical customers who adhere to strict quality control procedures and testing to qualify for the Azon 10-year warranty against failure of the thermal barrier polymer due to dry shrinkage and fracturing. In addition to the warranty, quality assurance practices and design service analysis, program participants receive certified training of Azo-Brader machine operations, as well as marketing support.