Keymark is proud to offer the patented Azon Azo-Brader process to your fill & debridge requirements. This process provides mechanical surface conditioning of the extrusion cavity to ensure proper adhesion to difficult finishes. Window and door extrusions processed with the Azon Azo-Brader, structural polymer system, Azon E-Quality Audit Procedures, as outlined in the warranty agreement and quality assurance guide, carry a ten-year warranty against polymer failure (dry-shrinkage).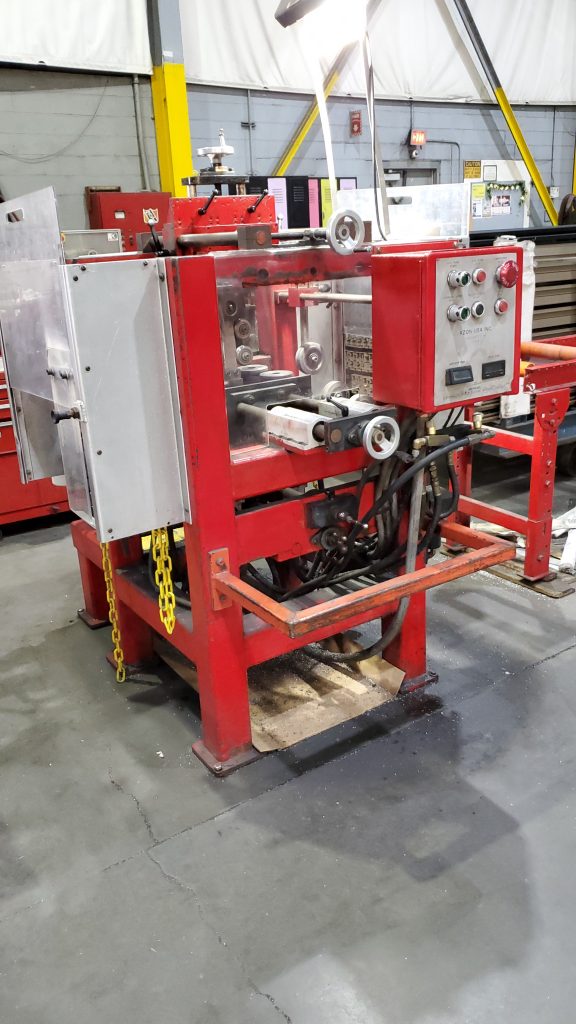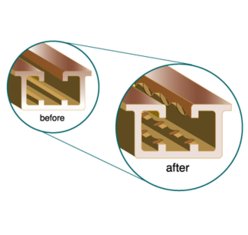 Azo-Brader™ mechanical lock system
The patented Azon Azo-Brader™ is a machine that mechanically locks the polymer into the thermal barrier cavity. Engineered for abrading all surfaces, including mill finish aluminum, gloss enhanced finishes and all-color anodized finishes, extrusions processed with the Azo-Brader™ are tested regularly for polymer adhesion in the Azon environmental test chambers.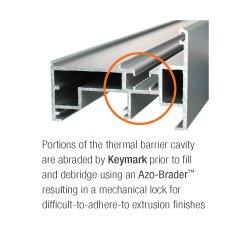 The mechanical lock application is backed by a ten (10)-year warranty that protects against adhesive failure and cracking of the structural thermal barrier, due to a loss of adhesion between substrate surfaces and the thermal barrier. Approved Azo-Brader™ Applicators, like Keymark, participate in the Azon E-Quality Audit™ program to ensure higher quality standards during manufacturing and ongoing monitoring of the fill and debridge process.
Approved Azo-Brader Applicators work closely with Azon to follow guidelines set forth in the American Architectural Manufacturers Association (AAMA) AAMA QAG-1-98 Quality Assurance Processing Guide for Poured and Debridged Polyurethane Thermal Barriers and the Azon Quality Assurance Guide. The key to the extrusion performance is the ongoing confirmation testing Azon performs to ensure proper application of the thermal barrier products. Participants in the Approved Azo-Brader Applicator program are chemical customers who adhere to strict quality control procedures and testing to qualify for the Azon 10-year warranty against failure of the thermal barrier polymer due to dry shrinkage and fracturing. In addition to the warranty, quality assurance practices and design service analysis, program participants receive certified training of Azo-Brader machine operations, as well as marketing support.